Hints And Tips For Healthcare Professionals
Millions of people suffer from urinary incontinence. As a healthcare professional, it is likely you'll be in contact with people suffering with incontinence. Here are some great tips which will hopefully help with the conversations you have.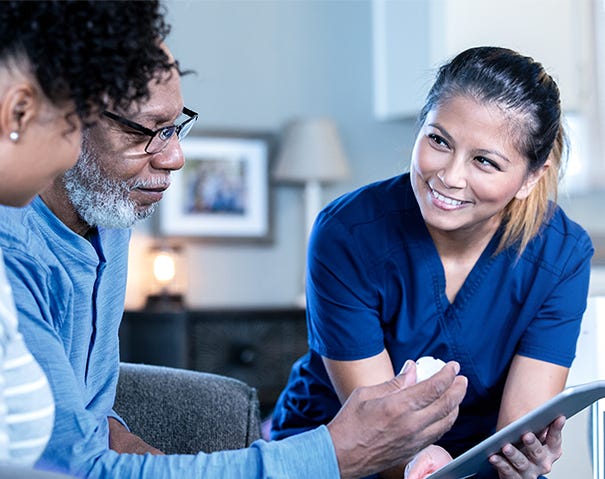 Personalised Incontinence Products
There is no magic product that suits every patients' needs – we are all different people with all kinds of body shapes and will undoubtedly have personal preferences on what type of fitting we prefer. Attends has a wide assortment of incontinence products for all types and levels of incontinence - so you and your patient can find the best ones for their personal needs. We are here to help you provide personal help, focusing on the person as an individual and not just another statistic.
Find the right products for your patients' situation
Finding the right size and absorption level is essential. This allows the patient to feel safe (from leaks) and comfortable in their everyday life. To find the right size, simply measure the waist and hip and choose the largest measurement.
Our sizes are mentioned on all our factsheets, brochures and on our website. If you require any help in finding the right product, give us a call or leave us a message here.
Have Brochures to Hand
We have many free brochures and materials that can help you find the right products together with your patient – these are all available once you login. Creating an account takes seconds. Once you're logged in, you can simply choose from a list of resources to download or order a hardcopy to be delivered to you.
Samples at the Ready
Samples are a brilliant way for the patient to have a look and feel of the products. It also helps them find the right fit and also see for themselves how good our products are. Just a few clicks on the website and the samples are ordered. You will be able to deliver them directly to the patient.
Advise Them to Seek More Help
Many people who suffer from incontinence don't know that there is treatment available. Inform them about the different types of treatment available and how to get it. Also, remember that pelvic floor exercises are an important way to improving or eliminating urine leakage.
Need Assistance?
We are always here to help if you have any questions – don't hesitate to contact us using the contact form or by calling us at 01924 669 260.
You can also find out more about incontinence on our RCN accredited eLearning platform – pick and choose from a list of different topics and spend as much or as little time on it as you want.
There's plenty more to come, so visit us regularly to keep up to date with the latest incontinence news.